Introduction to the album of Mel Roberts photography California Boys
California, the Golden State, is known for its vast expanse and breathtaking beauty Since Lewis and Clark first wrote and spoke of its wonders, California has offered the promise of great potential and unlimited success. People came by the thousands, and despite the crowding cities, pollution, and the volatile earth beneath, they are still coming. Celebrated to mythic proportions in music, literature, and film, the name California' itself has come to represent plenitude and arguably much of that meaning involves finding success, love, and personal freedom. The culture that has risen from the state has always fueled this fire-from the discovery of gold, to surf culture, to Hollywood, with daydreams of movie stars bronzing under swaying palms or gracefully dipping into the cool azure of swimming pools, unfettered by the rigors of the workday the rest of us face No matter how exaggerated or improbable, the promise of California continues to inspire and draw people from all over the world.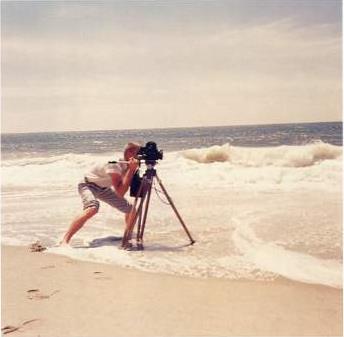 It is easy for us to take for granted many of the freedoms we enjoy today. Our culture has become saturated with images of desire, glamour, and excess. Sexualized images of women and men dominate advertising and art. Before all this, of course, was a great struggle: a time when such images were unthinkable and could easily be the ruin of a career, or even land one in jail In the United States. California led the way in the Sixties, in the struggle for free expression, especially sexual expression
Specifically, on the front of self-expression in the photography of the male form, there have been many crusaders such as Bruce of LA, and Bob Mizer of the Athletic Model Guild. Their idealized and latently sexual physique photos define the genre from the late Forties through the Fifties. By the early Sixties, in California at least, the scene was rapidly changing. Desperate to escape the more conservative parts of the country, many young men and women came to California to live their lives freely, especially young gay men. Mel Roberts and his Rolleiflex were waiting.
Mel Roberts was born in Toledo, Ohio in 1923. He started creating his own imagery as a teenager by shooting 16mm movies of his friends. He was drafted in 1943 and served as a cameraman documenting World War II in the South Pacific. After the war Roberts moved to California. Like many he wanted to work in Hollywood He studied cinema and graduated from the University of Southern California with a degree in filmmaking. Talented and handsome, Roberts found work easily. One of his earliest distinctions was working on the blacklisted film "Salt of the Earth", as music editor He became involved in the newly formed Mattachine Society – one of the earliest political organizations of the gay movement, and lived as an openly gay man. A turning point occurred while Roberts was working for a large aircraft manufacturer in San Diego 'I was right in the middle of directing a film, I went in to the office and was told to leave the building immediately. I couldn't figure out why. They never told me. I didn't pass the security clearance, obviously. I assumed there were two reasons: I had worked on 'Salt of the Earth" and because I was gay'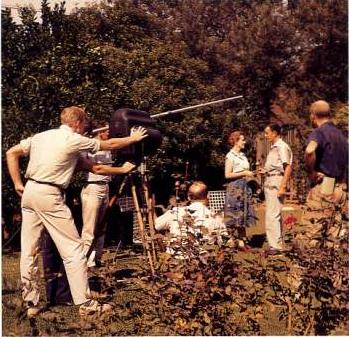 Roberts found work as a model for the La Jolla Museum of Art and spent his days surfing and combing the beach. It was the beginning of a new direction in his life. 'I was part of what you might call the elite gay community of La Jolla All the best looking guys hung together, we went to the bars together. There must have been six or eight of us Good looking Marines, good looking sailors. It was kind of a little clique We always got the best looking tricks. So in addition to laying on the beach and modeling, we also collected bottles and cans. We were all unemployed most of the time. We just survived as best we could, but it was a great year. I'll tell you that."
Shortly Roberts returned to Los Angeles and began getting work from a variety of Hollywood studios as a director, cinematographer and film editor, which kept him busy through much of the mid to late Fifties. Roberts bought his first still camera during this time, and began shooting his friends and lovers.
Mel Roberts began photographing models toward the end of the classic physique period in 1959. He felt something was missing in male photography. 'I always thought that there was one place that the manly figure should be – out in a natural environment, because man is part of nature. I think that's what got me intrigued and started in this business, because I felt the male model wasn't being treated properly in the natural environment.*
He encountered many young attractive men being open about themselves and thought that someone should photograph them. Encouraged by several friends, he decided to give it a try "I was staying at my friend Richard Haydn's [the actor], I was taking care of his mansion. I'd bring all my tricks back there which was very impressive I had picked up this guy at a bar in Santa Monica. Bob Davis. He was a gorgeous surfer and became my first model."
Roberts photographed his early models in the standard posing straps of the day, or sometimes in a revealing mesh bikini, or torn shorts, but when they were willing he photographed them nude. Before 1967 full frontal male nudes were considered obscene, and therefore subject to seizure while being developed. To avoid restrictions on content Roberts took on the difficult task of processing his own color film. Some of the images in this book are flawed as a result. Some have no surviving originals and were reproduced from his vintage prints. Their imperfections reflect the difficulty artists faced at this time and represent an important detail in the history and evolution of male nude photography
In 1962 he submitted some of his work to "Young Physique' magazine and the photos were accepted. Soon, requests were coming in from around the world for his photographs. It was at this point that he formally began his professional photography career
Public attitudes were quickly changing and Roberts images reflect the growing visual freedom. "One of the things I noticed about male physique photography at the time was that most of the models were muscular. That was the type that AMG and Bruce of LA concentrated on. I just thought there had to be more to it than that, something more natural, with everyday guys I've discovered that once someone reached the age of 24 or 25, they really let themselves go. Going to the gym was still sort of an unusual activity I concentrated most of my efforts on young men from 18 to 24 or 25, and very few people beyond that age"
Roberts was immediately successful and he quickly became one of the most prominent male photographers of the period. His work was published extensively in the United States and throughout Europe during this period.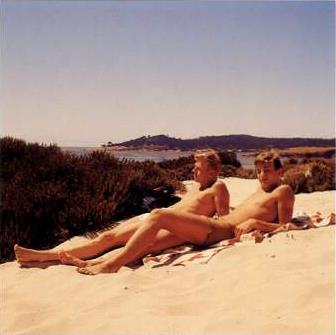 Interestingly many of his models didn't define themselves sexually. In the new open spirit of the Sixties people were changing how they perceived themselves and others. "I found that the most open and positive attitudes about sex came during the Sixties. There were love-ins Thousands of people would show up. You can t believe the attitude. Everybody was using drugs. Live bands would perform. People would bring their kids, and they'd run around naked. Even the adults would run around naked Nobody was uptight."
It was a time of charmed experimental openness and trust. People were becoming increasingly uninhibited. Roberts embraced this attitude and lifestyle. He became friends with many of his models, some even lived in his own home. In all over 51 people lived in his home for two weeks or more over a sixteen year period, a few even stayed for years
Roberts was keenly aware of the styles and trends of the day and made a point of capturing this important aspect in many of his photographs. "I've always had mixed feelings about nudes. I think this is why you'll see so many shots of my models wearing clothes. I've always felt that once you reveal complete nudity, all the mystery is gone. But, if there is something left to the imagination, something still concealed or only partially exposed, it is much more exciting. In a way, I was kind of sorry that full frontal nudity was permitted, although not really But it made for creative alternatives. That's what I tried to do."
Roberts intended to document the styles of the changing limes. Shot more for himself than his customers, these portraits reveal the unique character of the individuals, the cultural climate and many nuances of the period The clothing and social styles of the Sixties and Seventies have become part of the collective consciousness of America. Specific details, such as a feathered hairstyle, a particular type of sneaker, or pipelined shorts, seen in their original context, take on an even greater resonance now that these styles have disappeared, evolved, or been re-defined in contemporary culture.
Many of these images have never been published. This collection reflects Roberts' unique vision with images that capture subtle details of life from those times. It is important to note that a significant portion of his work is comprised of erotic nudes, the majority of these were purposefully excluded from this edition and will be showcased in a separate volume
By the end of the Sixties, experimental impulses began to totally reshape American culture, especially regarding attitudes toward sex and sexuality "It's hard to explain what the Sixties were like." Roberts reflects, "there's nothing today to compare. We think. we have a lot of sexual freedom, but there was a different attitude then."
By the mid Seventies, however, things had changed dramatically. Jay Howard, one of Roberts' close friends and former models describes his impression of this transition – "I think when Charlie Manson did his trip, around '69, people started to be scared of each other. Then Jim Morrison died. Janis Joplin died and Jimi Hendrix died. It jolted a lot of people." Roberts agrees: 'Everything started to sour. By 1972 and 1973, with the Vietnam War still going on, there was a lot of cynicism.'
These events profoundly shaped the directions and attitudes in people's lives, and the perception of "California Dream" Roberts continued to photograph models and to sell his photographs to people around the world. The images of hippies in love beads gave way to bell bottom pants and skateboards There is also a significant difference to his images from the Seventies compared to the two previous decades. On a cultural level an innocence was lost. In the Fifties, in an effort to create a sense of cultural security after World War II. a rigid definition of identity, family and standard of living emerged These idealized American values soon became a commercial caricature that was impossible for most people to live up to or sustain By the early Seventies this standard had become a highly divisive issue that fragmented the concept of any singular American ideal. By the m»d-Seventies more diverse sub-cultures had begun to evolve and co-exist. It was also the time when an openly gay culture first began to emerge, including the rise and proliferation of many gay themed books and magazines, which became increasingly explicit. As consumer tastes moved toward more explicit material Roberts felt the pressure to make his images more sexual. And while he did not want to be known as a pornographer he eventually experimented with more sexually explicit erotica to remain commercially viable.
At the same time pressure arose from the authorities. On two occasions, in 1977. and 1979 the Los Angeles Police Department raided Roberts' home During the 1979 raid the L.A.PD seized all of Roberts' negatives, prints, cameras-even mailing lists Without any ability to contact his customers or fill orders. Roberts' business threatened to collapse. The L.A.P.D. refused to release the impounded property for over a year even though the city attorney found nothing actionable and charges were never filed against him By 1981 Roberts decided to end his professional photography career. "I feel like it was destined for me to stop at that moment." he reflects. His decision coincided with the beginning of the AIDS epidemic and the end of the sexual revolution, a time when opinions about sex began to polarize
From bodybuilders in posing straps, to surfers on the beaches of the California coast, to budding hippies in love beads, to skateboarders in short shorts and tube socks. Roberts' photographs document the transitions of an entire generation. His images capture young men on a journey of self discovery, in a time before people were pressured to define themselves as gay, straight, or otherwise. These portraits are a celebration of self expression, hope and the possibilities that are as big as California itself.
– Mark Harvey.
Los Angeles. July 2000
"This book is dedicated to all the wonderful men who modeled for me, especially to those of them who are no longer with us. So many wonderful guys, many who became friends, even lovers."
– Mel Roberts, July 2000