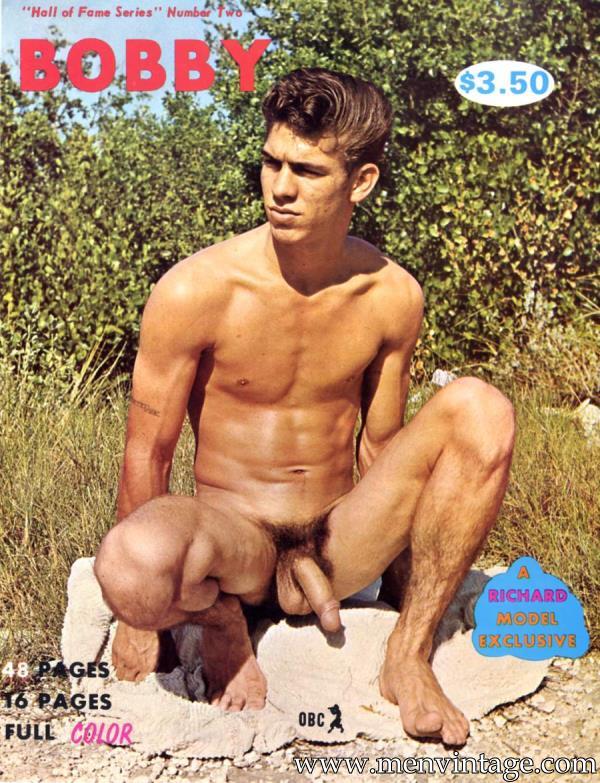 "Hall of Fame Series" Number Two
The story of BOBBY
Few models with the mature appearance of BOBBY have done so well in a field abounding with more youthful faces. BOBBY was first added to the library of RICHARD MODEL EXCLUSIVES in 1966. He was then 16, with the general physique and physical attributes of a 20-year old.
BOBBY is the oldest son of a North Carolina farming family. He has worked at a multitude of hard labor jobs. His superb body is a result of this hard work and some special attention to physical development while in the Marine Corps. His mannerisms are quiet and respectful.
BOBBY owns and operates his own tree surgeon business today in South Florida. He is engaged to be married. It is interesting to note that he has been so engaged on in three previous occasions. Each engagement was to a different young lady.
BOBBY continues his modelling career with (RMX) though less frequently in the past year due to business pressures in his blooming venture. His young brother. WAYNE now 15. is a promising (RM)£) star of the future However, it will be difficult for him to follow in his older brother's footsteps. BOBBY has com manded not only four covers, but also five prized center spreads of five different publications.
RICHARD MODEL EXCLUSIVES considers BOBBY among the top ranking successful commercial models in this business. This is especially significant in view of the fact that BOBBY has never been photographed with any other model. BOBBY's success has been on his own merits as a photogenic model with photographic appeal.
OVERSTOCK BOOK COMPANY welcomes BOBBY as the second winner in this much-heralded "Hall of Fame" series and congratulates (RMX) for its nomination of him.
35 photos inside the member area